NEVADA UNDERGRADUATE RESEARCH OPPORTUNITY PROGRAM (UROP)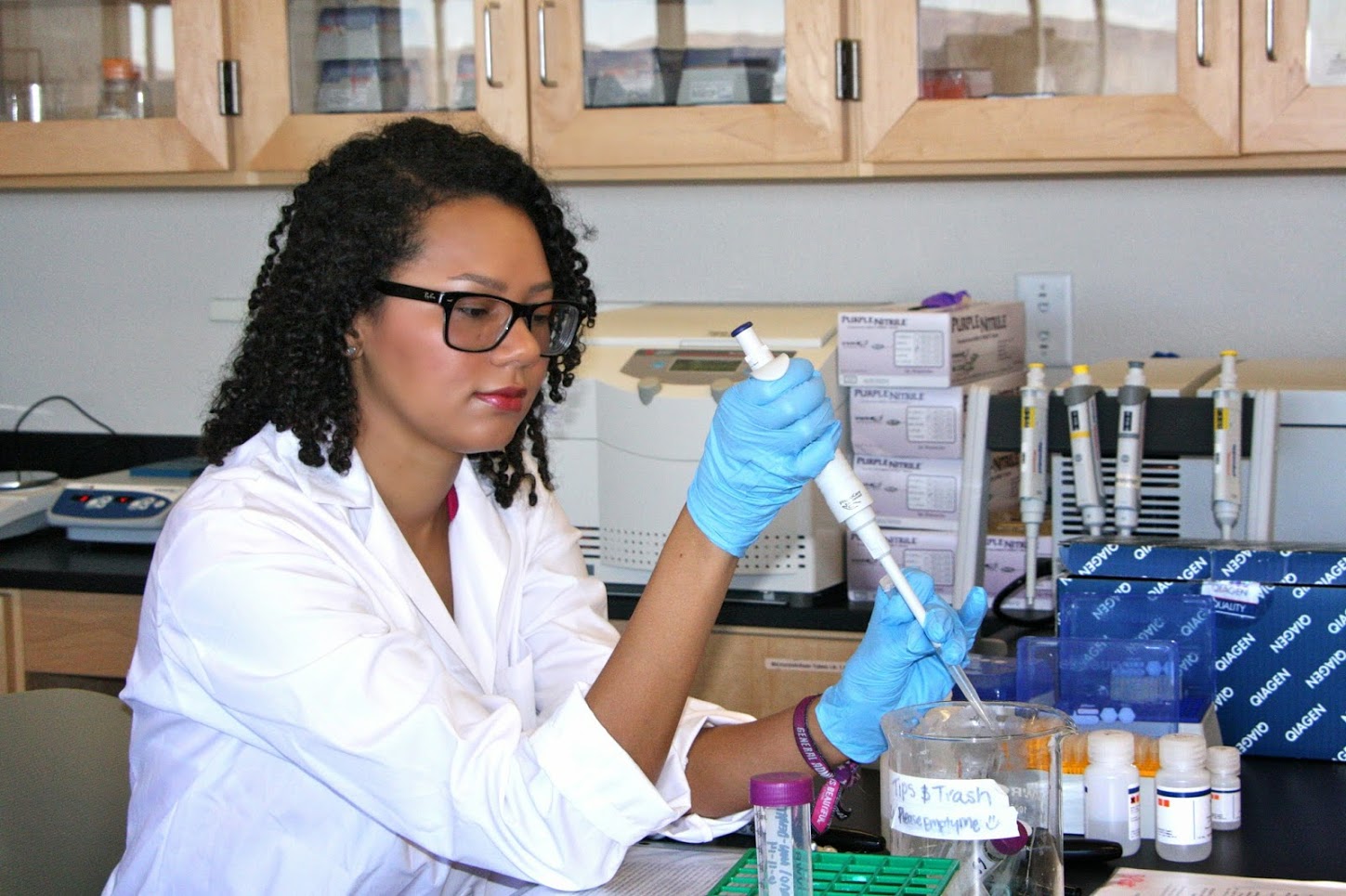 Maya Zawlodski, Nevada State College
–Photo by Kurt Regner
The UROP program promotes intensive undergraduate research opportunities for university students. Through these research experiences, our goal is to enhance the recruitment and retention of undergraduates in STEM (science, technology, engineering and mathematics) disciplines, particularly those related to solar energy and its effects on water resources and the environment in general.
The Nevada System of Higher Education (NSHE) announces the
Undergraduate Research Opportunity Program (UROP)
Summer 2019 Scholarships
to promote undergraduate research
Who can apply:  Undergraduate students enrolled full time (1-3 credits for summer) at any NSHE institution during the time they are conducting their research. Scholar must have a NSHE faculty mentor to supervise their research project. Past recipients of a NSF-EPSCoR undergraduate research scholarship under the current NEXUS award are not eligible to apply.
Research areas:  Students working in areas of science, technology, engineering or math (STEM), except for medical sciences, are eligible.  Fields related to solar energy, water and/or environmental research are of special interest. Students with research tied to medical sciences are encouraged to apply for the National Institutes of Health IDeA Network for Biomedical Research Excellence (NIH INBRE). For more information, visit http://www.unr.edu/inbre
Scholarship amount:  $4,000 for students
Application Deadline:  Monday, March 4, 2019
Research Period:  June 1 through August 9, 2019
Application Writing Workshops Available!
Students and faculty from NSHE Institutions are encouraged to join each of the following sessions at one of the listed locations. The workshop is hosted in a series of three sessions at different NSHE campuses around the state. Students are strongly encouraged to participate in each of the three sessions. Faculty interested in or committed to mentoring a research undergraduate should attend Session 1.
Session 1:  Learning more about the UROP application, eligibility, roles and responsibilities and connecting with potential mentors/mentees.
Session 2:  Working with experienced writing center staff to draft and edit UROP applications., while learning proper writing techniques for future applications. *Students should come prepared with a research concept/idea. 
Session 3:  Finalizing UROP applications through a peer editing  process while being lead by experienced writing center staff.  *Students should come prepared with a strong draft of their UROP scholarship application.
Step 1:
Find a workshop near you
Step 2:  
Register to attend a workshop
Sponsored by:  National Science Foundation's Experimental Program to Stimulate Competitive Research (NSF EPSCoR), Award #IIA-1301726.