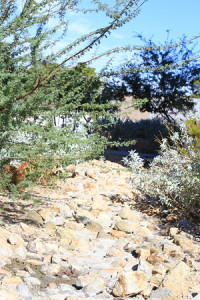 The NSF Solar Nexus Environmental Research Team will study the impacts of solar facilities on the environment. These studies will help minimize the environmental impacts of construction, operation and decommission of solar facilities in desert environments.
The Environmental Team will conduct research in the following six areas:
Influence of solar energy facilities on the population dynamics of organisms (Abella)
Microclimate change on desert plant communities due to solar energy facilities (Devitt)
Impact of solar arrays on the water balance of desert soils (Berli)
Soil crust degradation and mitigation (Sun)
Impact of solar facilities on landscape patterns: Investigate landscape pre – syn – and post-installation using remote sensing techniques (Cablk and Stephen)
Landscape restoration ecology in solar energy development (Abella)
Nevada has abundant solar resources that can be extensively utilized while minimizing solar facilities environmental impact to meet our energy needs as well as to stimulate economic development. At the same time, these facilities can be constructed and maintained in a way that minimizes environmental impact.
Co-PI
Co-Lead Environment
Co-Lead External Engagement
(702) 862-5452