SOLAR KITS AND WATER TREATMENT KIT
WE ARE NOW ABLE TO SUPPLY PERMANENT KITS
REQUEST KITS FOR YOUR SCHOOL OR CLASSROOM
In partnership with the Solar Energy-Water-Environment Nexus in Nevada project, the Center for Energy Research at the University of Nevada, Las Vegas has created a total of 5 reusable solar and water kits. to supplement classroom curriculum.
These kits are wonderful tools to help educate students on the engineering design system, and to help teach about solar energy and water treatment systems. The kits are a free resource for Nevada teachers.
Kits are available for short-term or permanent use at your school.
Kits will be provided at no cost to teachers or schools. Teachers are asked to fill out an application. In the application, teachers should explain how these kits will be incorporated into classroom lessons. We are looking for schools where multiple teachers will use the solar or water kits in order to maximize the number of students who learn about solar energy and water treatment.
Fan & Light
(solar-powered circuit with lights and fans)
(Recommended for grades K-5)
The Fan & Light kit is a compact solar kit used to demonstrate how solar energy and electricity work together to power fans and light bulbs with a photovoltaic panel.
Off-Grid
(solar power system and storage)
(Recommended for grades 5-8)
The Off-grid kit is a portable kit containing a solar photovoltaic panel, microcontroller, and battery pack. The system can store energy in a battery or supply direct power to charge a cell phone (or other device with a USA type two/three prong power plug or USB).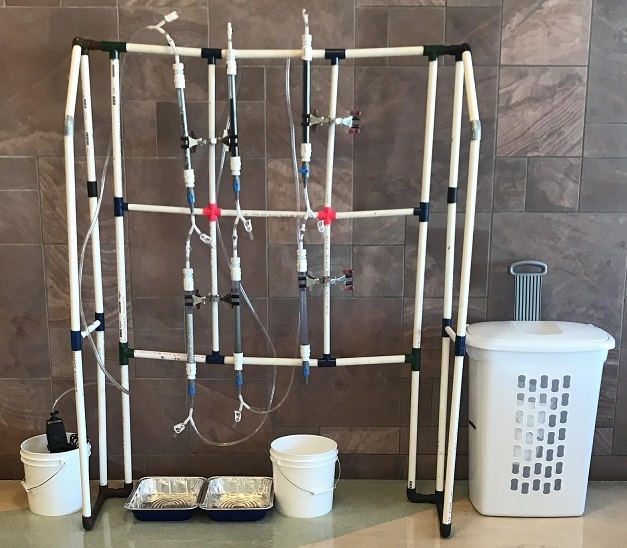 Hydro P.A.L.
(Water Treatment)
(Recommended for grades 6-12)
The Hydro P.A.L. is a portable water treatment kit to investigate how different treatment materials (e.g., gravel, sand, activated carbon) remove contaminants from water.  Students change the order of the treatment materials and test the water quality before, during, and after to understand why the different treatment materials are used.
(Recommended for grades 8-12)
Sound waves via laser (more information coming soon…).
(Recommended for grades 8-12)
The Sol Traveler is a compact solar water heater that uses two types of solar technology: photovoltaic to power the pump and solar thermal to heat the water. This kit is great for data collection labs.
Sol Traveler Resources include videos, guide, solar energy lessons and information.